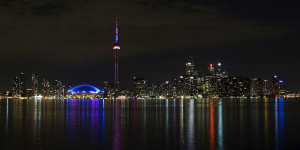 The University of Toronto's news site has posted a brief snapshot of Toronto's entrepreneurial scene, highlighting the university's historical and current innovative strengths.
Here's a brief excerpt:
Entrepreneurs don't have to be in Silicon Valley to become the next great business success story. Toronto now ranks fourth among the world's top 25 start-up ecosystems, according to Start-up Genome, a project that maps the success rates of start-ups. Toronto ranks just behind Silicon Valley, New York City and London.

.  . .

U of T, a hub within the Toronto ecosystem, has always been an innovation leader. The University's discoveries alone have led to the establishment of nearly 250 spin-off companies. In 2011 alone, 25 start-up companies were launched and generated almost 200 new invention disclosures.
MaRS Innovation and the Centre for Commercialization of Regenerative Medicine are mentioned in the concluding paragraph as key partners in U of T's strategy moving forward.
U of T is a MaRS Innovation member institution.
Posted by Elizabeth Monier-Williams, marketing and communications manager